During the ongoing closure of all GO Gateshead gyms in response to the Covid-19 pandemic... we've been busy! So busy in fact, our plan is by the time we can reopen and welcome you back, you'll barely recognise the gyms you remember.
Following the opening of the new gym at Gateshead International Stadium earlier in the year, all our other gyms are currently receiving the same treatment. This means a complete re-imagining of the interiors, including new branding and décor, new flooring throughout, and most importantly brand-new gym gear at each site, meaning you'll be able to resume your fitness journey with GO Gateshead using the very latest innovations in gym equipment
In partnership with Pulse Fitness, each site will benefit from new, state-of-the-art cardiovascular equipment, including:
Free-runner and ergonomic curved treadmills
Lateral trainers
Ski ergometers
Cross-trainers, steppers, seated steppers, stair-masters and cross-climbers
Upright and reclined cycles and air-bikes
Rowers
Most gyms will also feature a brand-new functional training area. Functional training improves all areas of fitness, including cardiovascular, strength, flexibility, coordination and agility. It is exercise that's intended to strengthen muscles throughout the body, particularly those used to perform everyday tasks; think pulling, pushing, squatting, lifting, rotation and so on. These spaces will include:
Functional training rigs
Base-bags
Slam-balls
Plyo-boxes
Battle ropes
Tyre flips (Gateshead Leisure Centre only)
Sled prowler and 10m track (Gateshead Leisure Centre only)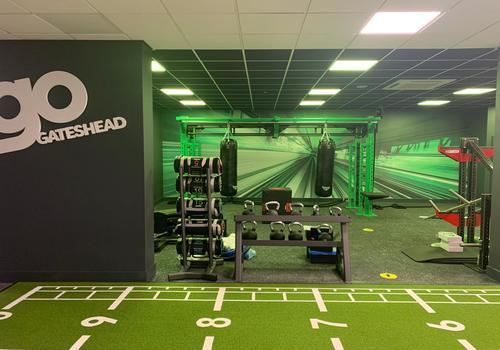 Each gym will also host an exceptional range of fixed and plate loaded resistance equipment, including:
Shoulder, chest, triceps and seated leg presses
Lateral pull downs
Seated rows
Pec decks
Back extensions
Multi-function pulleys
Assisted dips
Prone leg curls
Smith machines
Multiple weight barbells, dumbbells and kettlebells and a variety of benches
Most equipment also features Pulse Fitness' revolutionary PulseMove technology allowing you to select or customise a training plan and track your progress against your fitness targets, as well as premium quality TV, streaming, app and web services.
Peter McGhee, Leisure Operations Manager at GO Gateshead said "We've invested heavily to make sure all our gyms feature the very latest and most technologically advanced equipment available. They're unlike anything else available locally and we can't wait to share these new facilities with all our valued customers. Whatever you want to achieve from your GO Gateshead membership, we've something for everybody."
It is presently anticipated all work will be completed in time to welcome back our members once GO Gateshead's leisure centres are able to reopen, although no definitive date has yet been agreed. We will update our members once we have further information.