Changing Places toilets
Fully accessible toilets at all our venues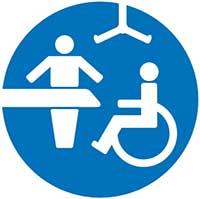 Changing Places accessible toilets have more facilities compared to other toilets such as hoists, changing benches and more space.
Changing Places toilets provide:
a height adjustable changing bench
a tracking hoist system, or mobile hoist if this is not possible
adequate space in the changing area for the disabled person and up to two carers
a centrally placed toilet with room either side for the carers
a screen or curtain to allow the disabled person and carer some privacy
a safe and clean environment
wide tear off paper roll to cover the bench
a large waste bin for disposable pads
a non-slip floor
Most of us don't give visiting public buildings a second thought. However, imagine how hard it would be if you couldn't take part in simple activities simply because the toilets weren't suitable.
Many disabled people find themselves in this situation and are unable to take part in activities that some of us take for granted simply because standard accessible toilets do not meet their needs - or the needs of their carers.
Standard accessible toilets meet the needs of some disabled people, but not all. Over 230,000 of people living in the UK need personal assistance to use the toilet including people with profound and multiple learning disabilities, some people who have had a severe stroke, some people with acquired head injuries and some older people.
They, and their families and carers, need Changing Places toilets to be able to take part in their communities.
There are only a small number of public Changing Places toilets in the UK and Go Gateshead are proud to offer Changing Places accessible toilets across all of our venues.
Find out more about Changing Places toilets.