On Thursday 26 July, the world's biggest girl band Little Mix will perform at Gateshead International Stadium as part of their Summer Hits Tour 2018.
Fans attending the concert are encouraged to take advantage of the following information to assist in their visit to the venue.
First some simple dos and don'ts to make sure you have fun and stay safe:
Do
Keep your ticket with you at all times
Check information on road closures and allow ample time for your journey, parking and security checks. There is no parking available at the venue.
Bring clothing appropriate for the weather conditions
Place any rubbish in the bins provided
Only buy from official licenced vendors and merchandisers
Report anything suspicious to a steward or members of staff
Tune into local radio and keep an eye on social media for travel and weather updates
Don't
Expect to be able to park your car at the stadium
Bring any prohibited items into the stadium (see below)
Bring bags larger than A4 in size
Bring food or drink of any sort into the stadium
Bring picnic hampers, chairs or sun loungers
Put up an umbrella during the performances
Bring any form of professional audio or video recording equipment
Bring any long-lens cameras, tripods, selfie-sticks or GO-Pros
Bring any big banners or posters larger than A3 in size
Bring any valuables to the stadium or leave any on view in your vehicle
Bring a pushchair, carry cot or car seat
Bring any animals to the venue, except guide dogs
What is the order of events?
| | |
| --- | --- |
| Lower field doors | 3.30pm (Fans arriving early are advised to congregate here, pitch standing and Golden Circle only) |
| Arena doors | 5.00pm |
| Germein | 7.00pm |
| RAK-SU | 7.40pm |
| Little Mix | 8.30pm |
| Concert ends | 10pm |
All timings are correct at time of publishing but are subject to change.
Getting to Gateshead International Stadium
Gateshead International Stadium is located on Neilson Road, Gateshead, NE10 OEF. There is no car parking available on site. For the nearest car parks, please see below.
It is strongly recommended you allow plenty of time to arrive at the venue. Roads and transport hubs will be busy both before and after the event.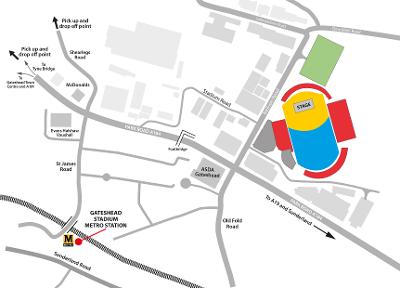 Download the Gateshead International Stadium map [1.67MB]
By car
Gateshead International Stadium is signposted from all major roads in the area. There is no car parking available on site. For the nearest car parks, please see below.
A1 (from the North)
Follow the A1 Southbound until the turn off for the A184 (Gateshead Town Centre). Keep following the A184 until you arrive at the Stadium on the left.
A1 (from the South)
Follow the A1 Northbound, turn off the A167 (Gateshead South). Pass the Angel of the North on your left. Follow road to the centre of Gateshead, take the slip road underneath the flyover. Go straight over the roundabout and then turn right onto the A184 at the next roundabout. Follow the A184 until you come to the stadium on the left.
A69 (from the West)
Follow the A69 until you meet the A1. From there follow directions as from the A1 North.
A19 (from the East)
Follow the A19 until you reach the Whitemare Pool roundabout. Turn right onto the A184 (Gateshead). Continue onto the A184 and the Stadium is on the right.
By bus
GO North East are running additional bus services to the stadium on the day of the event, from Gateshead Interchange in Gateshead town centre, from the pick-up and drop-off point on Quarryfield Road, and from Heworth Interchange. These buses will be titled 'X' and will run every 10 minutes from 3 to 7.20pm, and then again at the end of the concert at 10pm.
Single fares will be £1.60 for adults and £1 for those 18 years and under, plus all Go North East day, weekly, monthly and annual tickets covering the purple zone will be valid too.
The regular 93 from Gateshead interchange, and 94 from Heworth Interchange will also be running every 15 minutes throughout the day.
Save with a Family Day Ticket, only £10* for up to 5 people travelling together up to two adults and three children. Must include at least one adult and one child).
Full bus timetables can be found at www.gonortheast.co.uk
By Metro
Gateshead Stadium Metro Station is approximately 5 minutes' walk from the stadium. A footpath leads from the Metro station, through St. James Village housing estate to the stadium. Metro will be operating a frequent service before and after the concert, and they will have dedicated staff at key stations to assist passengers.
By rail
The nearest train station is Newcastle Central Station (East Coast Line). Travel from Newcastle Central Station to Gateshead Stadium Metro station using the Metro.
By taxi
Please direct your taxi to the designated pick-up and drop-off point on Quarryfield Road (See below)
Where can I park my car?
There is no car parking at the venue for this event (excluding pre-booked accessible ticketholders). Public parking is available at the following locations; however these are not for the exclusive use of those attending the concert and spaces are limited. If you are intending on parking your car you are encouraged to arrive as early as possible. All sites are located within a 10-20 minute walk from Gateshead International Stadium. Parking charges will apply.
Mill Road (NE8 5JB)
South Shore Road (NE8 3AE)
Swinburne Street (NE8 1AX)
Gateshead Town Hall (NE8 1DP)
Gateshead Civic Centre (NE8 1HH)
Heworth South (NE8 3QP)
Heworth North (NE10 0YJ)
Garden Street (NE8 3AE)
Back Walker Terrace (NE8 1EB)
Regent Court (NE8 1HB)
The Sage Gateshead (NE8 2BA)
Baltic Centre (NE8 3BA)
Trinity Square (NE8 1AG)
I have an accessible ticket; where can I park my car?
If you have an accessible ticket for the event, we invite you to park your car for free in the car park of St. Bede's School located on Old Fold Road opposite the stadium, off Park Road (A184). Spaces are strictly limited. You will be asked to present your accessible ticket to gain access. Those without a valid ticket will be denied entry to the car park.
Do you have a designated 'Pick-up and drop-off' point?
There is a designated pick-up and drop-off point located at the new Quarryfield Road car park adjacent to Gateshead College's main campus (as specified on the map in the Road Closures section). This site will be clearly signposted from the stadium on the day of the event, and will be in operation from 3 to 11pm.
Those picking up have the option to wait with their vehicle or temporarily park and walk to a pedestrian pick-up point on Neilson Road alongside the stadium to collect concert-goers and escort them back to their vehicle.
Short-term parking at the pick-up and drop-off point is limited and will operate on a first-come-first-served basis. No long-term parking is permitted in this area.
Will there be any road closures or traffic calming measures around the stadium?
To aid the safe delivery of the event, a number of traffic calming measures to commence at the times specified below will be in operation. All will cease at 12midnight on Friday 27 July.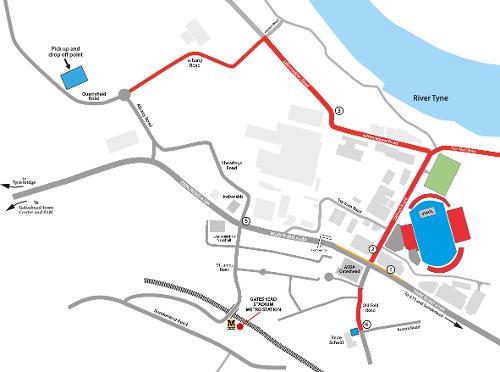 Download the Little Mix road closures map [2.69MB]
1. The A(184) Felling Bypass will be reduced to a single lane in both directions on passing the Stadium, with an enforced speed reduction from 40mph to 30mph. The speed reduction will apply from 8am, with the lane closure beginning at 9am.
2. There will be no access to Neilson Road from the A(184) Felling Bypass commencing at 9.30am. Access to Neilson Road via Stadium Road will be possible until 3pm, however you will only be allowed to turn right onto Neilson Road and then left onto the A(184) Felling Bypass.
3. To ensure safe pedestrian entry and exit from the event, Tyne Main Road, Saltmeadows Road and Albany Road will all close at 3pm. Access will be granted until 6pm for vehicles associated with businesses within the affected area.
4. Old Fold Road opposite the Stadium will close to traffic at 9pm from the exit of Bede School car park.
5. Please expect longer wait times at all traffic lights approaching and passing the Stadium, with additional temporary lights on the junction of Sunderland Road and Churchill Road.
Are tickets still available for purchase?
Tickets can be purchased through:
Otherwise, providing there is remaining allocation on the day of the event, tickets will be for sale from the box office at Gateshead International Stadium.
When will I receive my tickets?
All tickets will be sent direct from the ticketing agent through whom you purchased. They should arrive approximately two weeks prior to the event. If they have not arrived within this timescale please enquiry with your ticketing agent.
Are there age restrictions for the event?
All children under 14 years of age must be accompanied by an adult aged 18 years or over. We welcome children, but no pushchairs, carry cots or car seats are permitted within the venue.
Will food and non-alcoholic beverages available?
A range of outlets will be positioned throughout the arena and lower field retailing a range of hot and cold food, and hot and soft beverages. No food or drink purchased outside Gateshead International Stadium is permitted to taken inside the venue.
Will alcohol be available?
Alcoholic beverages will be available for sale from licenced bars within the venue. The stadium operates a strict 'Challenge 25' policy. Anybody buying alcohol who is suspected of being under 25 years of age will be required to produce a valid for of identification (ID) proving their age. Valid ID include a passport, photocard driving licence or a photographic identity card bearing the Proof of Age Standard Scheme (PASS) hologram. Do not attempt to bring your own alcohol into the venue or you could be refused entry.
Do you accept card payments?
Card payments cannot be accepted from any of the food and beverage vendors within the stadium. Please make sure you have sufficient cash for the event. There is no cash point (ATM) on-site.
Is smoking permitted within the stadium?
Gateshead International Stadium is a no smoking venue. This includes the use of e-cigarettes and other vaping devices. Anyone found smoking risks ejection from the event without refund.
Can I bring a bag into the stadium?
Bags smaller than A4 in size (W21cm x H30cm x D 8cm) are permitted. They will however be subject to a thorough search before you will be allowed entry to the venue. Do not arrive with bags that exceed this dimension as you will not be able to enter with it, and there is no facility to store bags during the concert.
Can I bring a camera into the stadium?
You may take pictures of the event providing:
Cameras are not of a large, professional size with interchangeable lenses
You do not obstruct the view of other fans when taking pictures
You do not attempt admission with a camera tripod. No tripods of any kind are permitted
Any bags containing camera equipment are no larger than A4, and are not left in aisles thereby causing an obstruction to others
Will I be searched, and what items are not permitted into the stadium?
Before being permitted entry into the stadium, all patrons will be subject to a security search. This is done to ensure the safety of all fans by preventing prohibited items entering the venue that may cause harm, distress or annoyance for other fans. Prohibited items include:
Alcohol of any description
Drugs, narcotics or any other illegal substance (except for medicinal purposes)
Glass or glassware of any kind
Bags larger than A4 in size
Backpacks
Cans of drink (Sealed clear plastic bottles not exceeding 500ml are allowed)
Food of any kind other than for medicinal reasons
Knives or other offensive weapons
Spray cans
Laser equipment or pens
Fireworks, flares or other forms of pyrotechnics or explosives
Chinese lanterns
Smoke or gas cannisters, or any other sort of chemical or incendiary devices
Sticks and poles, including flagpoles
Klaxons, megaphones, compressed air or gas operated horns
Banners that could severely restrict the view or be offensive to others
Chairs, shooting sticks, or chairs of any kind
Any dangerous articles or illegal substances not specifically referred to above
Anybody attempting entry with any of the items listed above will be denied access. You will be offered the opportunity to surrender any illicit food or drink, including alcohol. If we suspect there is a potential criminal intent in attempting access with a prohibited item, appropriate action will be taken.
What should I do in a medical emergency?
In the event of a medical emergency please notify your nearest St. John's Ambulance personnel, steward, or a member of the security staff, who will be pleased to assist. First aid points situated within the venue will be clearly signposted.
Can I be denied entry or ejected from the stadium?
The event will be staffed by security personnel and event stewards to ensure the safety of those attending. Gateshead International Stadium reserve the right to refuse admission or eject from the venue anybody who:
Refuses to be searched by any servant or agent of the stadium, or any Police Officer.
Is dressed in a manner which is considered:

Inappropriate, distasteful or offensive
Dangerous either to their own safety or the safety of other fans
Considered an obstruction to the view of other fans

Is not in possession of a valid ticket
Is or appears to be under the influence of alcohol and/or drugs
Is committing a criminal offence within the venue
Fails to comply to an instruction from a steward, security personnel, Police Officer or other authorised agent of the stadium.